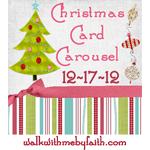 This is my 4th year to participate in Faith's Christmas Card Carousel. I love getting to see everyone's Christmas cards each year. This year we were going to get some family pictures done, but I decided it would probably be better to wait until Adelaide can sit up. So I just went with individual pictures of them for the front of the card and then a cute picture of both of them for the back. I love how it turned out.
Here is the pictures that is on the back…
Thanks for stopping by and head over to Faith's blog to see some other cute cards (and check out pictures of her adorable newborn twins!).
Merry Christmas!!
-Lauren-