Thank you guys for participating in my Christmas card giveaway from Shutterfly!
Random.org picked comment 2 so Jen, that means you! I can't wait to see your Christmas cards!! I have sent you and email and passed your email address on to Shutterfly. They should be sending you a code soon!
I'll be ordering our Christmas cards soon and I will be participating in Faith's Christmas Card Carousel again this year so you will see our cards up here on December 18th!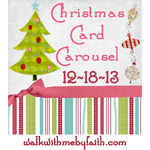 Hope everyone has a great weekend!
-Lauren-