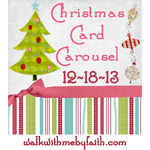 I have participated in Faith's Christmas Card Carousel for the past 4 years. You can check out our cards from 2009, 2010, 2011 and 2012.
So of course I had to participate this year as well!
The front of our cards…
And that back…
From my family to yours…Merry Christmas!!
-Lauren-