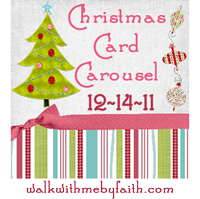 This is my third year to participate in Faith's Christmas Card Carousel. I love receiving Christmas cards, as well as picking out cards to send to our family and friends. You can check out our past cards here and here.
We are right in the middle of moving, and things have been crazy busy. Usually our friend Aaron takes family pictures for us sometime in November and I order cards around Thanksgiving. I like to have them go out in early December. But this year that just didn't happen.
We never had a free weekend to take pictures and I haven't even had a chance to get some good pictures of Aedan on my own (other than with my iPhone). But, I still wanted to get Christmas cards and get them out, even if it was a little late.
I used a picture of Aedan that I took a few months ago and I think I found the perfect card to go with it.
So if you are on our Christmas card list, I promise our card is on its way! Better late than never, right?
Thanks for stopping by and go check out Faith's blog for some other great Christmas cards!
-Lauren-