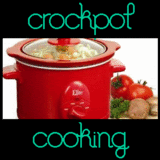 I am participating in Sarah's crock pot recipe linky party. I am so glad she is doing this. It has finally gotten cooler around here and I can't wait to cook up some warm comfort foods. There is nothing better than throwing ingredients into the crock pot in the morning and coming home the wonderful smell of a warm dinner.
I love Taco Soup so when I found this recipe I knew I had to try it. I found it last year and I can't for the life of me remember were I found it. So if it is your recipe, thank you! I love it!
Ingredients:
1 onion, chopped, 1 can chili beans (15oz), 1 can black beans (15oz), 1 can whole kernel corn (15oz), 1 can tomato sauce (8oz), 1 bottle of beer, 2 cans of Rotel (if you want it spicy you could do 1 hot and 1 regular), 1 package Taco Seasoning, and 2-3 whole skinless, boneless chicken breasts
Directions:
Place everything except the chicken in the crock pot and mix together. Add the chicken breasts (make sure they are covered by the other ingredient) and set the cooker to low. Cook for about 5 hours. Remove chicken and chop/shred and then put it back in the crock pot and continue to cook for about 2 hours.
*the first time I made this I wasn't home to take the chicken out so I just let it cook for 6-7 hours. I chopped the chicken just before serving. While it tasted fine, the leftovers were much better because the chopped chicken had been able to soak in the soup.*
This tastes great served with tortillas or tortilla chips, and topped with sour cream and cheese.
Enjoy!
-Lauren-